January 3, 2023
Women, Life, Freedom. (زن زندگی آزادی)
US media portrayals of Iranian women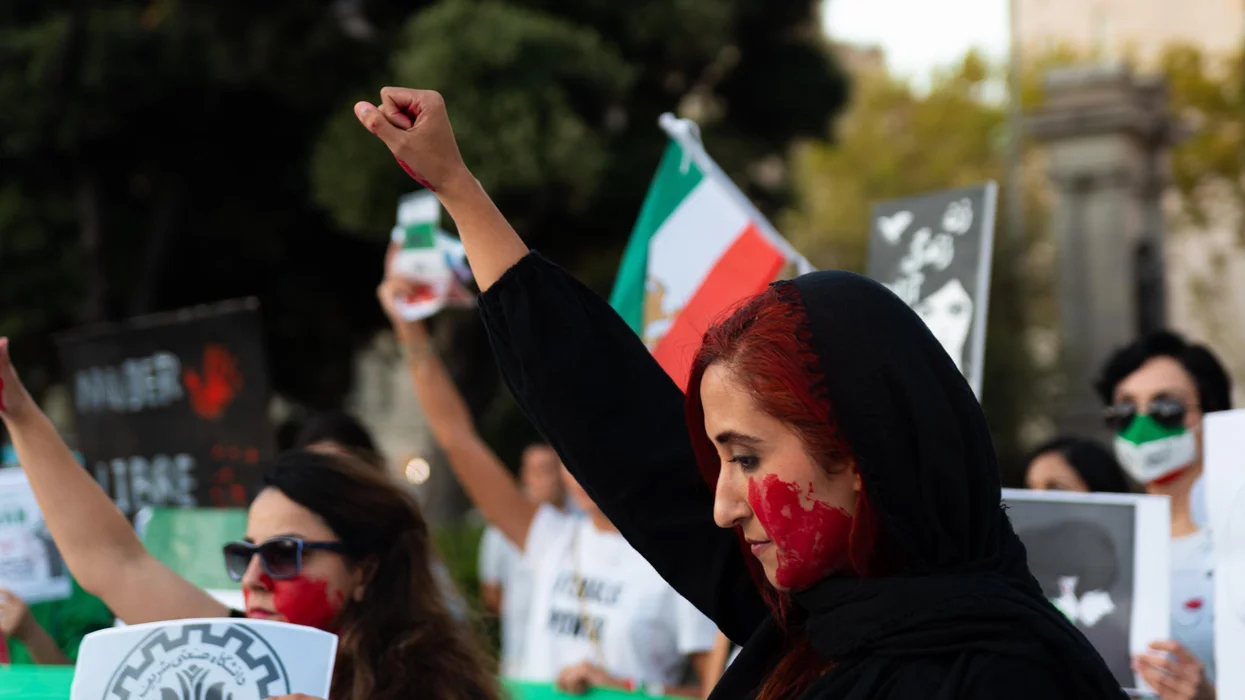 On September 16, 2022, Mahsa Amini, a 22-year-old Kurdish Iranian woman, died in custody only three days after being pulled off the street by the morality police in Tehran. She was detained and transferred to the Vozara Detention Center after being caught not wearing her hijab properly. The Iranian regime originally claimed Amini died due to heart failure, however, eyewitnesses insisted that Amini was brutally beaten in police custody and as a result, died in a coma in the hospital.
Since her death, tens of thousands of Iranians have taken to the streets, protesting the clear violation of human rights and women's bodily autonomy. Iranian women in particular have led the charge — burning hijabs, tearing off their veils, cutting their hair, chanting "Women, Life, Freedom." This new wave of protests symbolizes the anger of the Iranian people, and solidarity for Mahsa Amini and the countless other victims of the regime's abuse.
Unfortunately, the government's response has consisted of violent crackdowns. According to the U.N. Office of the High Commissioner for Human Rights, 14,000 people have been arrested. Foreign-based human rights organizations estimate over 500 people have died in the ongoing crisis. UN-appointed independent expert on Iran, Javaid Rehman, also notes that 21 people face the death penalty. Furthermore, an Oslo-based Iran Human Rights group identified up to 100 detainees who face potential capital punishment. In a moment of perceived hope, Iran's attorney general, Mohammad Jafar Montazeri, announced that the regime was abolishing the morality police. However, no Iranian officials have confirmed this rumor and strict hijab laws and discriminatory policies remain in place. Instead, the Revolutionary Court has begun publicly executing protestors — the first two among them: Mohsen Shekari and Majidreza Rahnavard. As protests move beyond 100 days and the Iranian government's violent response escalates, Iranians still bravely demonstrate for human rights and gender equality.
Iranian women, in particular, have been at the forefront of this movement — even as US media historically painted them as victims. University of Chicago political scientist Rochelle Terman presents a compelling study of portrayals of Muslim women in US news coverage. She reveals that the representation of Islam focuses disproportionately on women's rights violations and gender inequality. According to her findings, Muslim women are primarily newsworthy when they are viewed as subordinated in male-dominated, sexist societies.
By contrast, the current wave of feminist action in Iran has ushered in an unprecedented shift in Western narratives of Iranian women. This time, with women's rights at the forefront of stories, the media are highlighting the possibility of women-led change. Women have become the face of the protests and are now framed as capable actors shaping their futures.
To better understand this transformation of US media portrayals of Iranian women during these times of sustained and unyielding protest, I analyzed all 4,075 newspaper articles between January 1 and December 31, 2022 from the New York Times, the Washington Post, USA Today, and the Wall Street Journal containing the root word "Iran" to see how often and in what contexts women are represented in these stories.
Overall, the presence of Iranian women in major US publications has increased, as depicted in the graphic below. Before Amini's death on September 16, 2022, only 25% of all articles that mention "Iran" also contained words referring to "women" (including "girl," "female," "feminine," "women-led," "mother"). After her death, the proportion increased to 43%. Furthermore, narratives of Iranian women and protest have now become intertwined. After Amini's death, 31% of articles mentioned words referring to "women" and "protest" (including "riot," "revolution," "demonstration," "uprising," "rally"). Pre-death, this combination was only present in 11% of articles. Lastly, Mahsa Amini's name has been mentioned in 21% of articles published after her death. A clear shift in US narratives of Iranian women has occurred — they are now the focus of many stories and Iranian women have become strongly associated with protest.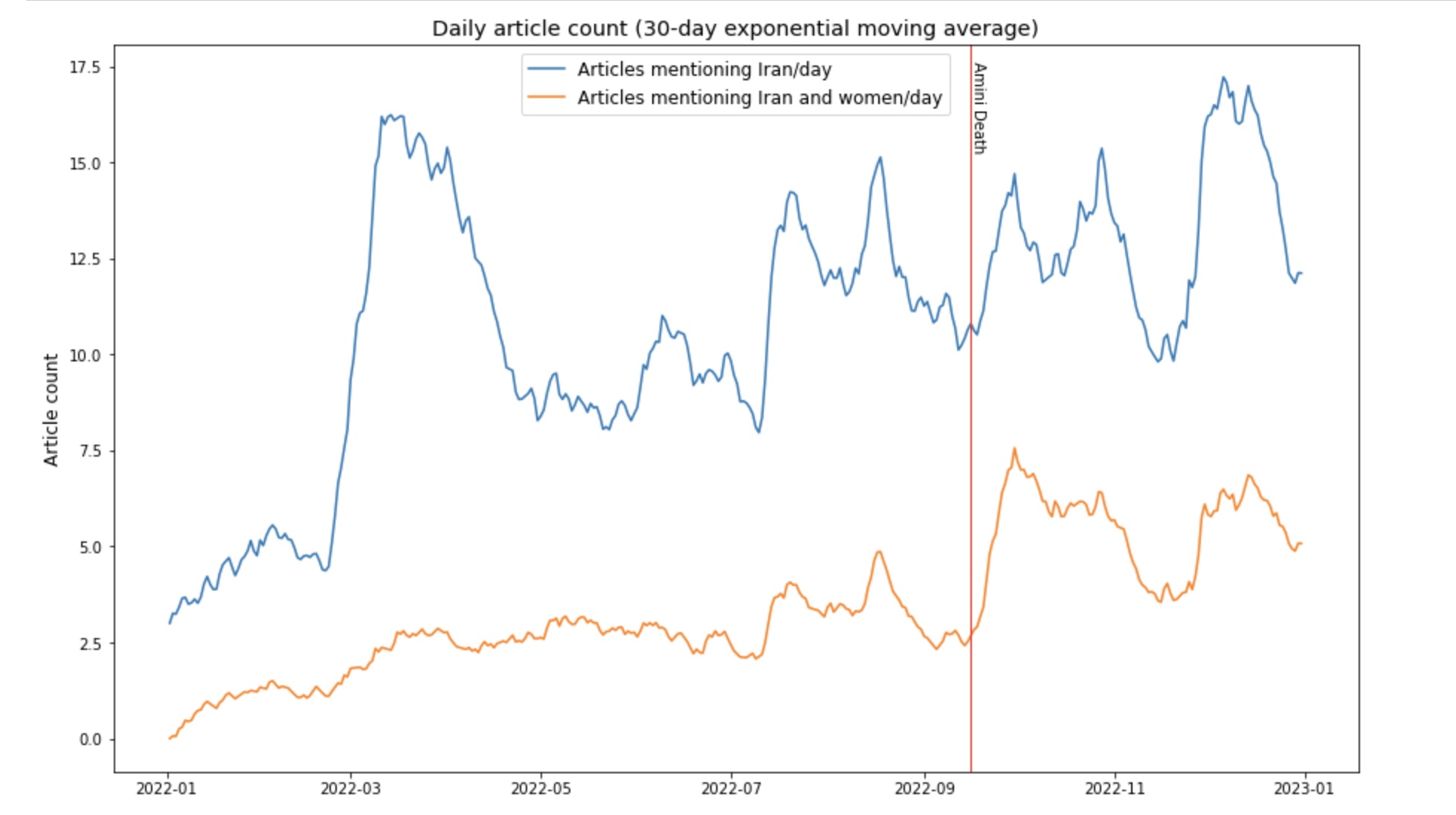 Furthermore, sentences within these articles often include the rhetoric of female empowerment and emphasize women as the heart of the protests. They are no longer in need of saving, and instead appear in phrases like, "an Iranian uprising led by women," "sparked a protest movement over the summer by Iranian women," and "calling the Iranian women's struggle a historic fight." One article even discusses President Biden's declaration that the United States stood with "the brave citizens and brave women of Iran." Not only are women included in the narrative, but the US media now speaks about Iranian women as if they are the leaders of protest.
In recent US media coverage, Iranian women have become the center of the narrative. They are no longer portrayed as helpless victims of the regime's abuse. Instead, they are depicted as directly involved in protests and as leading the dangerous effort to demand human rights in Iran. US media has slowly begun the shift from representing women as passive subjects of Iranian authority to showing them as authors of a powerful movement pressing for dramatic change.
-Nikki Sadat
Methodological note: I examined all 4,075 articles containing the root words "Iran" in The New York Times, The Wall Street Journal, The Washington Post, and USA Today, published between January 1, 2022, and December 31, 2022. For additional information regarding our methods, see here. Photo Credit: Davide Bonaldo / SOPA Images via ZUMA.